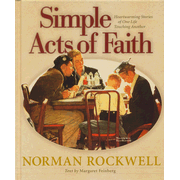 Simple Acts of Faith: Heartwarming Stories of One Life Touching Another
By Norman Rockwell & Margaret Feinberg / Harvest House Publishers

The beloved art of Norman Rockwell chronicles small-town America and reflects the simple kindness that paint ordinary life with shades of the extraordinary. This first Harvest House gathering of select Rockwell classics is joined by uplifting stories that illuminate acts of goodwill that transformed people's lives. In this beautiful gift book, noble acts of love come to life through true stories of rich, vibrant images. Norman Rockwell fans, Americana collectors, and those who cherish an uplifting look at life will treasure this celebration of family, community, and the goodness that overflows from the simplest acts of faith.