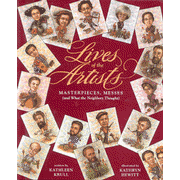 Lives of the Artists
By Kathleen Krull / Harcourt Brace

Most people can name some famous artists and recognize their best known works. But whats behind all that painting, drawing, and sculpting? What was Leonardo DaVinci's snack of choice while he painted the Mona Lisa's mysterious smile? Why did Georgia O'Keefe find bones so appealing? Who called Diego Rivera "Frog-Face"? And what is it about artists that makes both their work and their lives so fascinating - to themselves, to their curious neighbors, and to all of us?