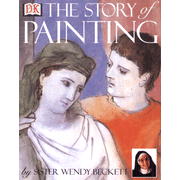 The Story of Painting
By Sister Wendy Beckett / Dk Publishing

Sister Wendy Beckett, well-known artist, offers an expanded and enhanced reference book for all artists, teachers, students of art. Contains almost 200 close-ups, with rich commentary on 400 masterpieces. Sister Wendy, an extraordinary woman, conveys her love of painting to veteran artists and to those just starting out. 736 pages.