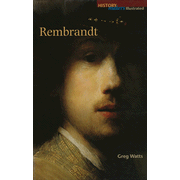 History Makers Illustrated: Rembrandt
By Greg Watts / Lion Books

Rembrandt is generally considered one of the greatest painters and print makers in European art history. His greatest creative triumphs include many famous portraits of himself and others, as well as his use of light and shadow in portraying scenes from the Bible. Watts examines how Rembrandt's faith impacted on his work and traces the life of this fascinating character and the key changes in his art style through interesting chapters and many full-color reproductions. 192 pages, softcover.

Please Note: Some of Rembrandt's included paintings include nudity.