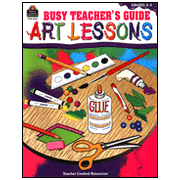 Art Lessons: Busy Teachers Guide Intermediate
By Michelle M. McAuliffe / Teacher Created Resources

Creating specifically for the time-strapped teacher, these easy to create art projects will make art easy and enjoyable for all! Students will learn the basic elements of art and how to apply them with lessons on drawing, painting, and multi-media projects. Each lesson includes a purpose, art history note, material lists, procedure, assignment choices, connection and reproducible. 80 perforated, reproducible pages, softcover. Grades 3-5.