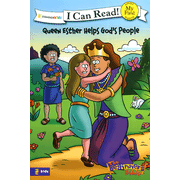 The Beginner's Bible: Queen Esther Helps God's People, My First I Can Read! (Shared Reading)
By Zonderkidz

Early readers will learn about how brave Esther saved her people in Esther and the King, as they explore God's Word. The timeless story of Esther, a young Jewish girl who becomes Queen, serves as an example of how God has a purpose for each of us.

Part of the I Can Read! series, this book is a great tool for beginning and developing readers. My First I Can Read! books have basic language, word repetition, and whimsical illustrations that are idea for sharing with an emergent reader. Recommended for ages 4 to 7.