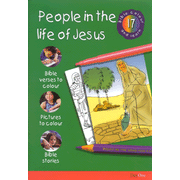 Bible Colour and Learn: 17 People in The Life of Jesus
By Day One Publications

The 20-volume Bible Colour and Learn series will enable even the youngest child to explore the entire Bible from Genesis to Revelation. Children will have fun coloring the illustrations on the right-hand side page - while an adult reads the words of explanation on the left-hand side. Books 1 & 2 introduce the Old and New Testament. Other volumes cover the books of the bible, highlighting the important stories and themes.
Volume 17 illustrates Matthew, Nicodemus, the Samaritan woman, Jairus, Martha, the unfaithful woman, Mary Magdalene, the rich young ruler, Zacchaeus, Judas Iscariot, Pontius Pilate, Simon of Cyrene, the 2 robbers, Joseph of Arimathea, Thomas, and the disciples on the road to Emmaus.