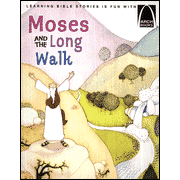 Moses and the Long Walk, Arch Book Series
By Concordia Publishing House

For more than 35 years, the best-selling Arch Book Bible story series has captivated children. Each book presents a complete Bible story in a fun-to-read way children can understand and remember. Recommended for ages 5 to 9.

Webmasters note:
Economical enough to buy class sets and use for reading lessons.