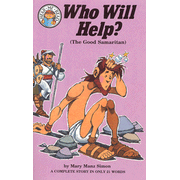 Who Will Help?: Luke 10:25-37: The Good Samaritan
By Mary Manz Simon / Concordia Publishing House

This book retells The story of The Good Samaritan for young readers. Just 21 words are used in this Hear Me Read Bible story. These words are repeated again and again to help your child develop a sight vocabulary and take pride in a growing ability to recognize words.