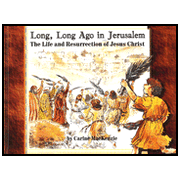 Long Long Ago in Jerusalem: The Death and Resurrection of Jesus
By Carine Mackenzie / Christian Focus Public

Long, long ago in Jerusalem there lived a man who healed the sick, made the lame walk and gave the blind back their sight. He also forgave people for their sins-because he was more than a man-he was God. Jesus Christ came to the people of Jerusalem and loved them. Yet, the people of Jerusalem became his enemies. They whipped him, made fun of him, falsely convicted him and then nailed him to a cross to die. But Jesus' death was not the end of the story--it was all part of God's plan: His plan to rescue his people and save them from the sin that would stop them entering heaven! Recommended for ages 4 to 7.