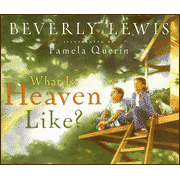 What Is Heaven Like?
By Beverly Lewis, illustrated by Pamela Querin / Bethany

What will it be like to live with God forever? A boy and his sister wonder that one day when they are missing their recently deceased grandfather. Curious, the boy sets out on a mission to find out, and he won't give up until he asks everybody he knows about eternity! Your children will love Beverly Lewis's engaging story and Pamela Querin's imaginative illustrations--and you'll appreciate the solid teaching from Scripture on every page. It poignantly addresses the questions kids ask most when they are coming to terms with the loss of a loved one. The final page offers suggestions for parents and Christian educators. Recommended for ages 4 to 8.