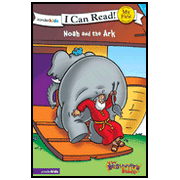 The Beginner's Bible: Noah and the Ark, My First I Can Read! (Shared Reading)
By Kelly Pulley / Zonderkidz

Young children will love reading Noah and the Ark for themselves! They will creep, crawl, hop, and gallop along with all the animals as they board the ark Noah built. The simple text and easy-to-understand storyline draws emergent readers toward exploring God's Word on their own. They can read first-hand how God's love and Noah's obedience saved the world.

Part of the I Can Read! series, this book is a great tool for beginning and developing readers. My First I Can Read! books have basic language, word repetition, and whimsical illustrations that are idea for sharing with an emergent reader. Recommended for ages 4 to 7.