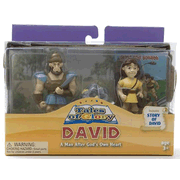 David and Goliath Tales of Glory Figurine Set
By one2believe

Full color figurines for children age 3 and older include David, Goliath and a collection of 5 smooth stones, from Tales of Glory. For interactive playtime fun and learning about a great Bible story. Each figure, fashioned of PVC, is child-safe and fits conveniently into the hands of small children, without sharp edges. Includes mini story book entitled "David and Goliath"; packed in see-through blister box, ideal for pre-Christmas giving, for Sunday School lessons, and forbiblical Bible storytelling. Figures are approximately 3" tall.
Endorsed by Focus on the Family.