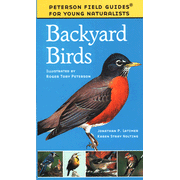 Peterson Field Guides for Young Naturalists: Backyard Birds
By Jonathan P. Latimer / Houghton-mifflin

The perfect introduction book to birdwatching, this easy-to-navigate guide features only common backyard birds you're likely to see! Vibrant photographs and illustrations highlight what to look for, with notes on habitat, voice, food, and more. Learn to identify cardinals, robins, finches, jays, sparrows, wrens, and more! 48 pages, softcover.