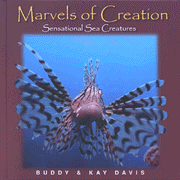 Marvels of Creation, Sensational Sea Creatures
By Buddy Davis / New Leaf Publishing Group

Learn of the magnificent abilities God has given these sea creatures! Written from a strong creationist standpoint, every animal has its features highlighted in both the main text, and in a "fact box" on the bottom of each page. Each sea creature has a full page photo, and information regarding its height, length, lifespan, indicators of special design, and more. In the back, an entire section shows a fish's anatomy, and how their intricate design can only lead one to assume a creator. 79 pages, hardcover.