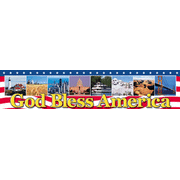 God Bless America Banner
By Trend Enterprises Inc.

Support Christian teaching and create a warm, welcoming environment. Hang banners on classroom walls or add a splash of color to libraries, gymnasiums, and common areas.Thought-provoking Bible verses and encouraging words help kids and adults develop strong, Christian character. Sturdy and durable for repeated use. Twelve and 1/4 inches high, 5 feet long. Ideal for Pre-Kindergarten to 3rd Grade (Ages 3 to 8).