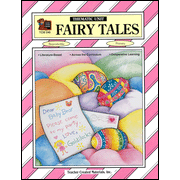 Fairy Tales, Thematic Unit
By Teacher Created Resources

Fairy Tales contains a captivating whole language, thematic unit. Its 80 exciting pages are filled with a wide variety of lesson ideas and activities designed for use with primary children. At its core are two high-quality children's literature selections, The Jolly Postman or Other People's Letters and The Talking Eggs. For each of these books, activities are included which set the stage for reading, encourage the enjoyment of the book, and extend the concepts gained. In addition, the theme is connected to the curriculum with activities in language arts (including daily writing suggestions), math, science (the study of sound), social studies, art, music, and life skills (cooking and physical education). Many of these activities encourage cooperative learning. Suggestions and patterns for games and activities which feature familiar fairy tale characters and stories allow the students to synthesize their knowledge as they construct products that can be shared beyond the classroom. The culminating activity provides directions for a Fairy Tale Ball which merges a variety of activities to help children synthesize what they have learned. These features combine to make this book a very complete teacher resource.