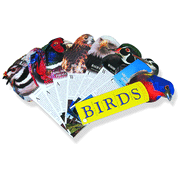 Fandex Field Guide: Birds
By Workman Publishing

Like having a real bird in your hand, these 50 brilliant die-cut images exude the stunning, unmistakable colors of a whole flock of North American birds. Each 10.25" x 3.75" card features details about habitat, range, diet, nest, eggs, and conservation status, as well as appearance, habits, and even song pattern. Perfect for beginning birders of all ages!