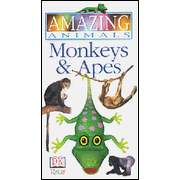 Amazing Animals: Monkeys & Apes, VHS
By Dk Publishing

"Hey! Where did the jungle go?" Henry goes bananas and swings into action with his very own movie on Monkeys & Apes, to find out what makes a gibbon sing and a howler monkey howl. Join Henry the Lizard, your animated tour guide, as he explores extraordinary wildlife, crazy characters, and unexpected animal surprises. Be prepared for some wild animal tales!

Broadcast nationally on The Disney Channel, Amazing Animals has quickly won children's hearts around the nation. Featuring the lovable Henry the Lizard as the inquisitive object of the narrator's clever questions and insights, each video is a riot of humor, live-action footage, animation, and information. Children have fun as they learn about animals around the globe.