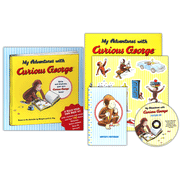 My Adventures with Curious George: A Build-Your-Own-Book Kit
By H. A. Rey / Houghton-mifflin
Children will have fun being author and illustrator as they join Curious George to create their very own adventure! Younger kids can use storyline stickers to get their imaginations rolling, while older children may prefer to use headline stickers or create their own themes. The boxed activity kit includes: * A hardcover, jacketed book...with die-cut to include your photo * Over 200 stickers * A CD of 200 images of Curious George artwork children can print * Bookmarks and bookplates * Fill-in About the Author pages * A Writer's Notebook * Customizable life-the-flaps * A note to parents A great family activity that promotes creativity and literacy!