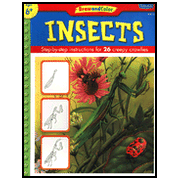 Draw and Color Insects
By Illustrated by Diana Fisher / Walter Foster

You can learn to draw 26 different creepy crawlies! This softcover book gives you simple step-by-step instructions to create lifelike insects and spiders. Starting with basic shapes, kids can follow along with the illustrated examples to create their own amazing masterpieces in no time at all! Recommended for ages 6 and up.40 pages, paperback.