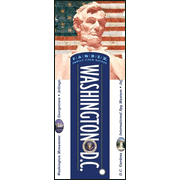 Washington, D.C. Fandex
By Workman Publishing

A travel guide perfect for families planning a trip and a great souvenir or gift to bring back home. A natural marriage of format and subject, each guide combines unique, individually die-cut cards with full-color photographs and illustrations and a lively, fact-filled text. Launching the travel guides are New York City and Washington, D.C., two of the most visited, family-friendly destinations in the U.S. Paperback, 48 cards. Workman.