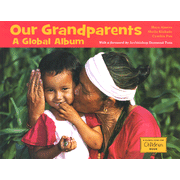 Our Grandparents: A Global Album
By Maya Ajmera / Charlesbridge Publishing

Grandparents are alike all over the globe! They love, take care of, play with, tell stories, and celebrate with us. Colorful photos of grandparents and grandkids from around the world are included, showcasing a wealth of different cultures. The book concludes with five things to do with your grandparents. 32 pages, softcover. Ages 4 & up.