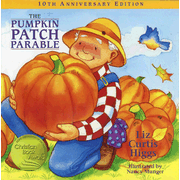 The Pumpkin Patch Parable, 10th Anniversary Edition: The Parable Series #1
By Liz Curtis Higgs / Tommy Nelson

This charming story for children illustrates how a loving farmer can turn a simple pumpkin into a simply glorious sight. Liz Curtis Higgs weaves a beautiful parable as the farmer picks out a special pumpkin from his garden, and scoops out all the messy "goo" to make room for his light to shine from inside. In the same way, God's transforming love can fill each of our hearts with joy and light. Liz Cutis Higgs originally created this parable as a way to share the Good News with her own precious children each harvest season. After 10 years, she has touched children everywhere! Recommended for ages 3 to 7.