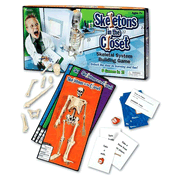 Skeletons in the Closet Game
By Learning Resources Inc

Bone up your kids' knowledge of their bodies' fantastic framework! The first player to build a skeleton through a series of correct answers wins. Includes 50 true/false question cards, double-sided spinner, 4 plastic skeleton models, guide, milk carton tokens, and lab closet cards. It's six games in one---a rattling good time for ages 7 and up!