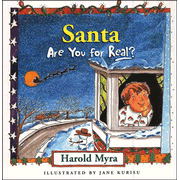 Santa, Are You For Real? Board Book
By Harold Myra / Thomas Nelson

Introduce your children to the real Saint Nicholas! With whimsical illustrations and simple rhyming text, this heartwarming story will explain who the real "Santa" was, when he lived, why he gave gifts---and, most importantly, how he set an example by keeping Christ at the heart of Christmas. 18 pages, boardbook from Nelson.