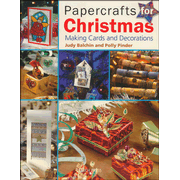 Papercrafts for Christmas
By Judy Balchin & Polly Pinder / Search Press

A magical Christmas is sure to be had by those surrounded by personalized Christmas decorations, from stocking garlands and gift boxes to candle shades and napkin rings. This expansive guidebook to Christmas crafts includes 18 simple projects accompanied by step-by-step pictures and easy-to-follow instructions. Also included are more sophisticated projects that incorporate wire and beading techniques, sewing, embossing, and glass painting. With all the inspiration hobbyists and crafters need to create unique and crafty pieces, the delightfully simple cards, hearts, tree decorations, and festive accent pieces will surely impress family and friends.