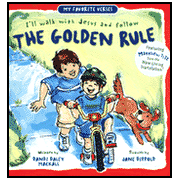 My Favorite Verses: I'll Walk with Jesus and follow the Golden Rule (Matthew 7:12)
By Dandi Daley Mackall / Standard Publishing

This engaging title charmingly presents the message of how children can walk with Jesus and follow the golden rule featuring Matthew 7:12 and using familiar childhood experiences to tell the story. For ages 3-7. 36 pages.