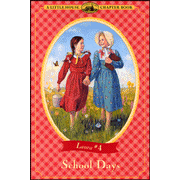 School Days, Little House Chapter Book Series #4
By Laura Ingalls Wilder / Harpercollins Publishing

School was always exciting for Laura Ingalls and her sisters. Laura knew that learning could be fun and that there would be many new friends to play with at recess. Adapted from The Long Winter. Little House Chapter Books are written for children who want to share in the adventures of everyone's favorite pioneer girl, Laura Ingalls, but who are not quite ready for the classic Little House novels. These are gentle adaptations of the original books, enhanced by beautiful black and white illustrations created by Renee Graef in Garth Williams' beloved Little House style. This glimpse into America's frontier past brings Laura's cherished stories to a whole new generation of young readers. Recommended for ages 7 to 10.