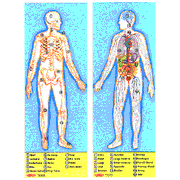 The Human Anatomy Floor Puzzle
By Lights, Camera Interaction

Our jumbo-sized, 4' tall puzzle features 100 detailed, puzzle pieces. This double-sided puzzle shows the circulatory, respiratory, and digestive system on one side, the skeleton on the other side. Great way to teach your child about the human body. This colorful puzzle is 20% thicker than other floor puzzles and has an easy-clean surface to keep your puzzle looking new!