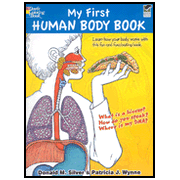 My First Human Body Book
By Donald M. Silver & Patricia J. Wynne / Dover Publications

Get to know all about the human body with this Dover coloring book! 28 instructive illustrations explore the muscular, skeletal, nervous, digestive, respiratory, and immune systems, as well as how come they get hiccups, what their skin is like, where their DVA is, and much more. Filled with fun facts and informative diagram notes, this is an educational tool that kids will enjoy coloring! 30 pages, softcover.