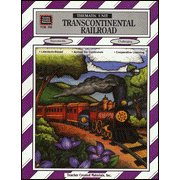 Transcontinental Railroad
By Teacher Created Resources

This study contains a captivating whole-language thematic unit. Its 80 pages are filled with a wide variety of lesson ideas and activities designed for use with intermediate students. At it's core are two high quality children's literature selections: Death of the Iron Horse and Full Steam Ahead: The Race to Build a Transcontinental Railroad. For each of these books, activities are included which set the stage for reading, encourage the enjoyment of the book and extend the concepts gained. In addition, the theme is connected to the curriculum with activities in language arts, math, science, social, studies, music, and life skills. Many of these activities encourage cooperative learning.