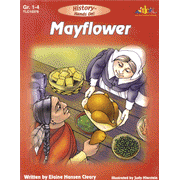 Mayflower, Grades 1-4
By Elaine Hansen Cleary / Teaching & Learning Co.

Students in grades 1-4 will understand the story of the Pilgrims and the journey to America when they work through the practical lessons and activities in this History Hands-On workbook. 25 chapters, including Thanksgiving costumes and more. Reproducible for your personal classroom.