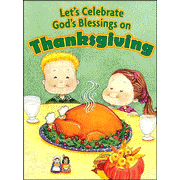 Let's Celebrate God's Blessing on Thanksgiving: Happy Day Holiday Book, Hardcover
By Lise Caldwell / Standard Publishing

Discover how holiday celebrations can help you develop your child's Christian faith. Beginning with familiar customs and traditions, this book makes the connection between the first Thanksgiving and our modern celebration - showing God at the center of both. Recommended for ages 3 to 7.