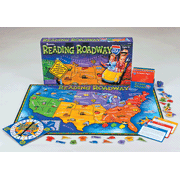 Reading Roadway USA Game
By Learning Resources Inc

Discover America and build reading comprehension skills with this family geography game! You'll "drive" across the country, discovering fascinating facts and collecting souvenirs. But watch the weather! A spinning tornado could send you whirling right back to where you started! Includes game board, playing cards, spinner, souvenir and player tokens, and instructions. Two to four players, ages 8 and up.