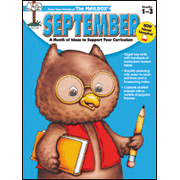 September Monthly Idea Book Gr. 1-3
By The Mailbox Book Company

Add pizzazz to your favorite seasonal and monthly themes with hundreds of curriculum-based ideas. We've included skill lines and a handy index, plus you'll have access to a brand-new Internet site that will allow you to fill out forms online and print patterns and reproducible easily. Topics include back-to-school, open house, Mexico, apples, owls, autumn and more! 96 pages, softcover. Grades 1-3, from Mailbox Book Co.