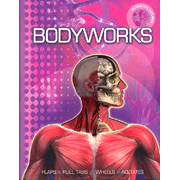 Interactive Explorer: BodyWorks
By Dr. Nick Graham & Richard Walker / Silver Dolphin Books

Explore the human body through interactive fold-out/lift the flaps, pull-tabs, lift-up acetate pages with dual layers, 3-D glasses, and turning-wheel segments! Illustrations, photographs, and maps feature informative captions that provide bits of information that are easy to digest. Discover the different features of the body: bones, muscles, sight, heart, and other organs, as well as the elements that work as the senses-nerves, seeing, sound, balance, and more. 51 pages, indexed, hardcover, hidden spiral-binding.

Please Note: A chapter on reproduction/pregnancy and an extrasensory/paranormal (6th) sense are included.