We would like to thank all our friends for their prayers on behalf of Eric Smith. Eric passed away on Saturday December 27, 2008. He lost his heroic battle against melanoma. The scriptures and your prayers were a great comfort to him during his last days. Those days are chronicled below.

This drawing was made by his sister, Veronica, as she sat by his bedside in the hospital in August 2008.

You may leave messages to the family in the guestbook.

Contributions may be made online in memory of Eric Smith to the Hollings Cancer Center at the Medical University of South Carolina where he received treatment, or they may be mailed to them at:



Hollings Cancer Center MUSC
86 Jonathan Lucas Street
Charleston SC, 29425






Peter Gringhuis and Larry Holder wrote a song for Eric He Is There For You.

See the words at Songs of Praise .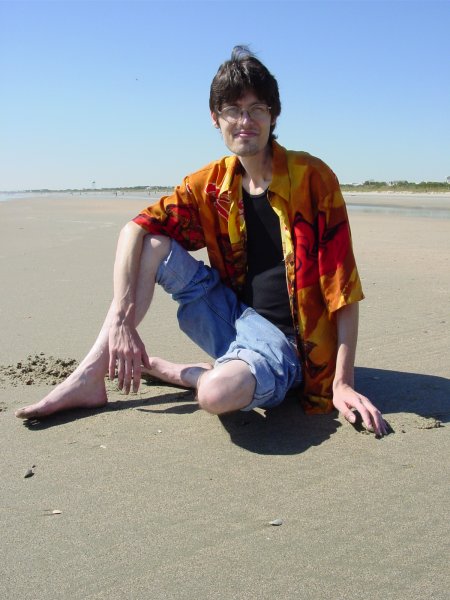 This picture was made October 15, 2008 when we made a recent visit to South Carolina. His Aunt Karen took this when they went to the coast for a day trip.

In January 2007 Eric had a birthmark removed which had been diagnosed as melanoma. This summer (2008) the cancer had returned. He had three tumors in his brain and the scans also showed cancer in his lung, spleen, and liver.

August 20, 2008

The doctors at the Medical University of South Carolina operated and removed the largest tumor from his brain. It had been causing a lot of pressure and pain in his head and also causing numbness in his hands and arms. The surgery was successful and did not affect his speech or motor coordination.

They plan to use a gamma knife stereo tactic laser to remove the two smaller tumors in his brain, and then for the second phase they will get him into experimental therapy to treat the cancer in other parts of his body.

The doctors say his condition is terminal. We are asking for prayers that God will spare his life. He is 33 years old and has just within the past two years finished technical college and has been working as a computer technician repairing computers which are under warranty. He loves his job, and we pray that he will recover so he can go back to it.

August 22

Eric went home from the hospital today. He will be staying with his mother and step-father. He has received the best of care at MUSC. The doctor who did the surgery has been doing these kind of surgeries since 1986, and the nursing staff was excellent.

His boss has told him his job is waiting for him and on days when he feels up to working he will give him some calls to make. What a blessing!

August 24

Friends had been to visit him today and he was in good spirits. He had only had pain medication once in the past 12 hours.

Eric has never abused his body with drugs, alcohol, or cigarettes so he is strong for the fight which is ahead. He probably could use a little more weight on him. His mother is feeding him well and giving him protein supplements. He goes to see the holistic doctor on Sept. 2.

August 27

Eric visited the doctor today and was told he would start radiation on Sept. 2 to treat the other tumors in his brain. He will have ten treatments during the month of September. Unfortunately, he doesn't qualify at that hospital for the viral therapy to treat the other cancers in his body. They were given phone numbers of doctors in other cities to call. We pray that he will be accepted in another clinical trial using the experimental viral therapy which has proven to be effective in treating metastisized melanoma.

September 4

The treatment schedule has changed. They are now saying he will have the radiation on Oct. 1 for the tumors in his brain, but will start medication for the other cancers in his body on Sept. 12. They plan to do an MRI on Sept. 30th. We have faith that with God's healing hand Eric will recover from this and live for many years.

September 12

Eric and his mother conferred wtih Dr. Paul O'Brian today at MUSC. They will be starting chemotherapy next week. He will be given Temozolomide which is a medication taken by mouth. He will take the medication for 5 days, then for 28 days there will be no pills. Then another 5 day round of medication. It is to treat the brain tumors as well as the tumors in other parts of his body.

Dr. O'Brian said they had had good results with the treatment. It takes the DNA cell and turns it against the cancer.

They will start the radiation on his brain as planned on October 1st.

After this round of treatment there is another option available to him now. He will qualify for an experimental drug testing program using Ipilimumab which will be an aggressive treatment which works to change the cancer DNA just as the first oral treatment did.

It was a really hard day for Eric emotionally. He came face to face with the fight he is up against. He has the advantage of being young and strong and of having so many people such as you praying for him. Please continue.

October 2

The did an MRI of Eric's head on Tuesday and then another one yesterday to see where to direct the radiation. It showed several lesions in the brain, but they said that was to be expected because there would be some residue left over where they surgically removed the larger tumor. They did the radiation and he was experiencing some nausea last night.

His chemo medicine finally came in. It's called Timodore which is a generic name for Temozolomide . He will begin it tomorrow for the first five-day round.

October 6

Eric began the first round of chemotherapy this past weekend. He is experiencing extreme dizziness with it, but they told him that could be one of the side effects of the treatment. He's just having to stay in bed and not do anything right now. Veronica and I will be flying to South Carolina this week to be with him.

October 20

I have returned from South Carolina where we found Eric feeling pretty well after his first round of chemo. He is experiencing some nausea and weakness. Just this morning I had a call from Fran his mother saying he was back in the hospital for a short stay while they regulate his medication. He is having a problem with the anti-seizure medication. On Nov. 3rd and 4th they will do another MRI and do blood work, and at that time we should know what effect the radiation and chemotherapy have had on the tumors. Your prayers are important to him.

October 21

We received word yesterday that Eric is back in the hospital in ICU. He has some bleeding in his brain. They say his brain is absorbing the blood, but if it becomes too much to be absorbed, they will have to put in a shunt to drain the fluid off. We were told this is a long term side effect of the radiation which he received the first of October. He is being given medication by IV and has a heart monitor, but his condition is stable and he is alert. We are very concerned about him.

October 25

Eric went home from the hospital yesterday and is recovering from a light stroke. We think he will probably not have lasting effects of it. His mobility and speech do not seem to be affected. He spent three days in ICU. They were able to stop the bleeding on the second day. They moved him to a hospital room on Thursday and released him to go home the next day. Fran, his mother bought a walker for him to use to prevent him from falling. She has nursing experience and is taking very good care of him in their home. He is so glad to be home again and is gaining strength.

October 27

Eric was taken back to the emergency room this morning. He had an episode of hallucinating last night. He had an increased heart rate and his blood pressure was high when he got to the hospital. After testing, the doctors said he was low on potassium and salt. They gave him potassium tablets and also gave it to him through an IV. They said the delusions were a part of the long term side effects of radiation. They did several tests and X-rays and were going to get him stabilized before sending him home tonight.

November 1

Eric went to the doctor yesterday and saw the medical oncologist. The report was not good. The tumors are growing in his brain and his liver is not functioning as it should. Fluid is collecting inside his body around his organs and he was dehydrated. They gave him an IV and he went home. His speech is slow right now and it takes him a while to formulate an answer when you ask him a question. If he chooses to go into hospice care, all treatment will stop except for comfort care. He has not made that decision yet. We plan to go to South Carolina in two weeks to be with him, and sooner if necessary.

November 4

The news from the neurologists today was more encouraging than the report last week. One of the doctors told them the tumors in his brain were not growing, but were showing signs of necrosis; the tumor cells were dying. This was good news indeed. He said usually you see signs of change in the brain 3-4 months after treatment with radiation, but it has only been 6 weeks and there are already signs of improvement.

November 7

Eric and the family have experienced a roller coaster of emotions this week. We had good news from the neurologist on Tuesday, then on Wednesday we got the report on the full body scan and it was not good news. The doctor said the tumor in the liver is very large and he also told us that Eric has air between the lungs and the thorax. If he begins to have trouble breathing they will need to do a procedure to remove the air. He started the second round of chemo last night, then hopefully there will be medicine available for him to enter a clinical trial. They ran out of medicine for the study. We will not give up.

November 20

They had a doctor's appointment yesterday and they did blood work and took an x-ray. We don't know the results of the x-ray and won't know anything for two weeks when they go back to the doctor. These results will tell what is happening to the cancer in the liver. The blood work however was encouraging. It was normal. Another good sign was that the air in his chest cavity has cleared up. As a result of that, they can now give Eric a diuretic to get rid of the excess fluid and reduce the swelling in his body. He starts a third round of Temozolomide ( Temodar) chemotherapy in two weeks. The doctor says he is not strong enough for more radiation right now.

December 7

Eric had to be taken to the emergency room this past Tuesday and spent two nights in the hospital. He is retaining fluid due to the liver problems, and his body has become very distended and swollen. They removed 4 1/2 liters of fluid from his abdomen and he is feeling better after the procedure. He is weak, but he is eating better since coming home from the hospital. His dad and family spent several days with him recently and I will be going to see him this week to spend five days.

December 17

I have just returned from spending five days with Eric in South Carolina. It was hard to see him in the condition he is in. Since December 7 they have tapped his abdomen again and removed another 5 liters of fluid, but could not remove the fluid from the upper part of his body and that fluid, within an hour had gone down into the abdomen and he looked like a woman with a 6 month pregnancy by the time I got there. His body is very emaciated and he generally needs help getting up out of a chair. He has started on a third round of chemo and the doctors are treating him with larger doses and have called for three more rounds of Temodar. We take it as a good sign, that they are treating the cancer more aggressively.

The most amazing thing happened on the flight home. We were on an American Eagle plane with three seats across and I found myself seated across the aisle from a young woman. We started talking and I told her I had been to Charleston to visit my grandson Eric who had cancer. She told me that cancer treatment was her field. After take-off I moved into the empty seat next to her and we talked and cried together for about an hour. I learned that she was a clinical trials specialist working with the doctors who treat cancer patients and had been to Charleston on business. I told her I thought the Lord put us together on that plane for Eric's benefit. She told me to send her all the information on Eric and the names of his doctors and she would see what she could do to help him. Praise God for his goodness and providential care!

December 27

Eric passed away at 10:00 PM EST about five months after a reoccurrence of the cancer in August.