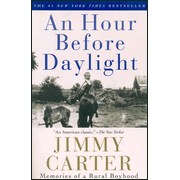 An Hour Before Daylight
By Jimmy Carter / Simon & Schuster Trade Sales

(PUBTouchstone)Bestseller! "During the Depression, the workday on the Carter farm began before sunrise. A touching memoir of the vast changes, moral and technological, that have obliterated the way of life the author remembers. A social and agricultural history that is plain and honest---an American classic,"---New Yorker. 288 pages, softcover.