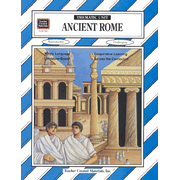 Ancient Rome, Thematic Unit
By Teacher Created Resources

Roman Civilization has made important and lasting contributions to the culture of our country and the entire world. Located in the middle of the Mediterranean Sea, Rome conquered and dominated this area and gave it a lasting peace for almost 1000 years. In the process, Roman engineers made the first extensive use of paved roads, the arch and modern plumbing. This unit study covers all areas of the curriculum as it further explores Roman History. The unit includes literature selections, language experience and writing ideas, bulletin board ideas, curriculum connections, a bibliography, group projects and culminating activities. The book used in this unit, that will need to be purchased or borrowed, is "Ancient Rome" by Simon James. There are also many articles in the workbook.