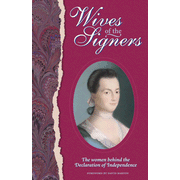 Wives of The Signers
By David Barton / Wallbuilders

History has been all too glad to acknowledge the courage and bravery of the men who put their lives on the line when they signed the Declaration of Independence. Yet, it is often forgotten that those very same men had wives and families. Brief, due to lack of historical data, but poignant, especially when we have snippets of their letters and diaries, these accounts of the brave founding women of America are filled with a brand of courage all their own. Even among those who died due to exposure, being turned out of their homes, or even in jail for supporting the Revolution, one doesn't find a single word of complaint, but rather an unswerving devotion to their husbands, and their husbands' causes. This unique book pays homage to the women of the Revolution, allowing readers a glimpse into their lives that have for so long been neglected. 283 pages, softcover.