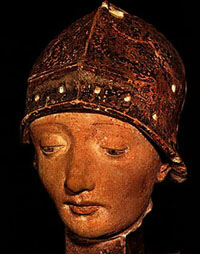 From Word Central's Student Dictionary
by Merriam - Webster
(Pronunciation note: the schwa sound is shown by ə)

supernatural
Pronunciation: "soo-pər-'nach-(ə-)rəl
Function: adjective
: of or relating to an order of existence beyond the visible observable universe; especially : of or relating to God or a spirit....

witchcraft, sorcery
Pronunciation: 'sors-(ə-)rE
Function: noun
: the use of powers gotten with the help of or by the control of evil spirits...

martyr
Pronunciation: 'mahrt-ər
Function: noun
1 : a person who suffers death rather than give up his or her religion
2 : one who sacrifices life or something of great value for a principle or cause
3 : a person who suffers greatly...

innocent
Pronunciation: 'in-ə-sənt
Function: adjective
1 : free from sin : PURE 2 : free from guilt or blame : GUILTLESS innocent of the crime...

saint
Pronunciation: 'sAnt
Function: noun
1 : a holy and godly person; especially : one who is declared to be worthy of special honor
2 : a person who is very good especially about helping others...

disagreement
Pronunciation: "dis-ə-'grE-mənt
Function: noun
1 : the act of disagreeing
2 a : the state of being different b : a difference of opinion...
Joan of Arc
By Mark Twain / Ignatius Press

Of all his works, this was Twain's personal favorite. Drawing on years of research, one of America's greatest authors retells the moving story of the maid of Orleans, portraying Joan's mystical visions, military prowess, endurance of charges of witchcraft and heresy, and her martyrdom with authenticity, poignancy, and admiration. An often overlooked masterpiece! 455 pages, softcover from Ignatius.
Your Story Hour Volume 7 - Audiobook on CD
By Your Story Hour

Children will listen and learn as they experience the historic adventures of Joan of Arc, John Bunyan, Albert Schweitzer, George Mueller, Florence Nightingale, Clara Barton, Louis Pastuer, Sir Wilfred T. Grenfell, Dwight L. Moody, John Wanamaker, George W. Carver, and Keith Argraves. Exciting, educational, and entertaining, these dramatizations feature sound effects, music, and professional actors portraying the high moral values demonstrated by men and women throughout history, and necessary for successful living today. 12 one-hour CDs in a vinyl storage case.
A LIBRARY OF
ONLINE BOOKS and BOOK PREVIEWS
The Life and Death of Joan the Maid
from The Red True Story Book by Andrew Land (public domain, 1895, full view)

"Joan of Arc"
by Ronald Sutherland Gower (public domain, 1893, full view)

"The Life of Joan of Arc"
by Anatole France (public domain, 1909, full view)


Preview the Amazon books using the links below.