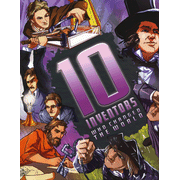 10 Inventors Who Changed the World
By Clive Gifford & David Cousens(Illustrator) / Kingfisher

Packing an impressive amount of detail into each chapter, 10 Inventors Who Changed the World explores the life stories and inventions of ten scientists from Archimedes to Soviet space-race "Chief Engineer" Sergei Korolev. With "life links" showing how one scientist is connected to the next, the progressive nature of scientific achievement is clearly shown through each inventor building upon, or being inspired by, the inventions of those who came before. Exciting graphic-novel style illustrations and fascinating biographies are perfect for engaging both history and science fans. 64 pages with index and glossary, hardcover with dust jacket.