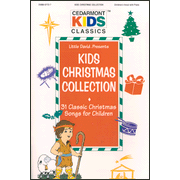 Kids Christmas Collection Songbook 1
By Cedarmont Kids / Brentwood Benson Publishing

From the Cedarmont Kids collection comes 32 classic Christmas songs for children! This book includes words and music for children's vocal parts as well as piano. You'll find all the songs from the Christmas Favorites and Chirstmas Carols Cedarmont Kids albums.