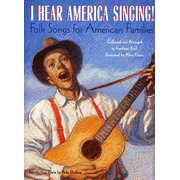 I Hear America Singing!: Folksongs for American Families with CD
By Kathleen Krull / Random House, Inc

From "Yankee Doodle" and "The Erie Canal" to "Take Me out to the Ball Game" and "This Little Light of Mine," America's musical heritage is as varied and delightful as her people! Featuring simple piano and guitar arrangements of 62 best-loved folk songs, this lavishly illustrated gift book is a toe-tapping, hand-clapping celebration of the United States. Includes a CD featuring 23 favorites! 160 pages, hardcover from Random House.