Thanks to a generous friend all these lessons are available in one PDF file (616K).

(To download the file to your computer, use the right mouse on the words "PDF File", then choose "Save target as" and choose a place to download the file to your computer.)
All the material at Garden of Praise is free without subscription.
If you have benefited and would like to help maintain the site, use the button below.


| | |
| --- | --- |
| | |

Page Comments
Most Recent Comments ( See more comments on this page )
2016-05-21
I took piano as a kid and am glad I did for music is so beneficial for developing the young mind.
www.howtolearntoplaythepiano.org
2014-05-08
Wonderful Article...Thanks a Lot Mrs. stevens for setting this up. CHEERS

2013-08-30
Awsome.maybe i will do better this time
Jinx Lishes
Leave a Comment
View all Comments




Printable cards for teaching
music time and rhythm
Print a Garden of Praise keyboard
to use at your computer.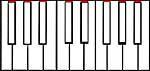 TO FREE SHEET MUSIC
AND
PIANO/KEYBOARD LESSONS
Play the songs here



at Piano Lady Nancy's





This work is licensed under a Creative Commons Attribution-NonCommercial-ShareAlike 2.5 License.



<!script language=javascript type="text/javascript" src="http://ss.webring.com/navbar?f=j;y=websitedc;u=10093804">




This page unique visitors since 11/9/02


Home




Thanks to my son, Elton for help with the PDF files. Visit him at:




Animated gif

Songs may be downloaded for use, but may not be published for profit.