Creation Memory Pegs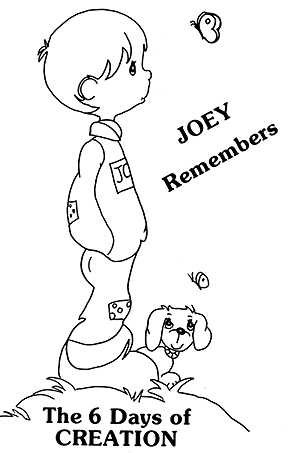 Memory pegs are unusual pictures or images used to help a person remember things. These memory pegs will help the children to remember what God created on each of the six days of Creation.

Color poster
Print in black and white
One - Run


A running light bulb? Yes, that will help us to remember that on Day One, God created light.


Color poster
Print in black and white
Two - Shoe


A shoe falling from the sky reminds us that on Day Two, God separated the waters and created the sky, or firmament.


Color poster
Print in black and white
Three - Tree


A tree upside-down! What a funny picture. But it helps us to remember that on Day Three, God created the trees, flowers and grass.


Color poster
Print in black and white
Four - Door


The sun and moon going out the door to see the stars remind us that on Day Four, God created the sun, moon and stars.


Color poster
Print in black and white
Five - Hive


We see a bird and a fish going around the hive. This makes us remember that on Day Five, God created the birds and fish.


Color poster
Print in black and white
Six - Sticks


A man and a pig eating sticks! This makes us recall that on Day Six, God created all the animals and Adam and Eve.

Seven

"And on the seventh day God ended His work which He had done, and He rested on the seventh day from all His work which He had done." Genesis 2:2
I have used these memory pegs for about 15 years to teach children the days of Creation.
They are not original with me.

The idea originated with Joey Chapa in the 1970's when he was a freshman in high school. The artwork is by Elaine Hoover. They were originally published and distributed by James Trent, who is now administrative minister at the West Freeway Church of Christ in Ft. Worth, Texas.

The images are used with permission. You may print them and use them with the children in your classes, but they are not to be printed and sold for profit.
Creation Memory Pegs Take-home page 1, page 2

Page Comments
Most Recent Comments ( See more comments on this page )
2015-10-22
I was asked to teach a religion class with only a weekly reader type aid to teach with. When I found your sight it was a blessing in disguise, now I have using information from your site as an assist.
Rita from New Mexico
2014-05-20
I discovered your website searching for Sunday School lessons for children but spent the entire day reading it for myself. What a blessing your website it and how greatly it will help me teach my small class of 6-10 year olds. Thanks so much and God Bless!
Charlotte
2013-02-03
I really like your website with useful bible lessons that helps me teaching my students in Sunday School. Thank you and God bless!
vaesavali steffany
Leave a Comment
View all Comments
All the material at Garden of Praise is free without subscription.
If you have benefited and would like to help maintain the site, use the button below.


Back to
Children's Bible Lessons

Home