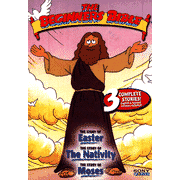 The Beginner's Bible Series: The Story of Easter, The Story of the Nativity and The Story of Moses, DVD
By Warner/elektra/atlantic Corp

Created to help you share the most important lessons form the greatest stories ever told, The Beginner's Bible series brings the true wonder and joy of the Bible to life. Featuring an original theme sung by Kathie Lee Gifford, memorable songs, vivid animation and heartwarming characters, this series is a delightful way to introduce young children to the timeless stories of inspiration, courage and faith. This single DVD includes 3 episodes:

The Story of Easter: Return to old Jerusalem to witness Jesus' triumphal entrance into the city and his eventual capture by Pontius Pilot's Roman soldiers. Then, experience the wonder of the fulfillment of God's promise to His chosen people as Jesus ascends into Heaven in the glorious miracle of the Resurrection!

The Story of the Nativity: Relive the miraculous events surrounding the very first Christmas as Mary receives a heavenly visitor and learns that she, of all women, has been chosen to be the mother of God's son on Earth. Then travel with Mary and Joseph to a lowly manger in Bethlehem and marvel as God's promise to His people is fulfilled and a heavenly host of angels proclaims the joyful news: Jesus Christ is born!

The Story of Moses: Experience a time in ancient Egypt when Baby Moses is plucked from the reeds of the Nile river and grows up to become the hero of the enslaved Israelites. Then witness Moses' struggle to free his people from the wicked Pharaoh--and their thrilling journey through the wilderness in search of the Promised Land they would one day call their own!

Includes English and Spanish versions. Closed Captioned for English version only. Running time: Approximately 90 minutes. Recommended for ages 3 to 7.