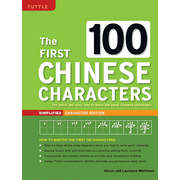 First 100 Chinese Characters: Simplified Character Edition
By Laurence Matthews & Alison Matthews / Tuttle Publishing

Practice writing the first 100 Chinese characters just like you learned to write the English alphabet-with gridlines and plenty of tracing and copying! Step-by-step examples show you where to form each stroke on a 4-square grid, helping students to quickly master the basic characters fundamental the language. English meanings, pronunciation in Hanyu Pinyi, and alternate forms (if any) for each character are printed with a stroke order guide and spaces for writing practice. Related compounds and phrases are also given. Three indexes allow for characters to be looked up by the English meaning, Hanyu Pinyin pronunciations, or radicals. Extra practice sheets provided. 128 pages, softcover.