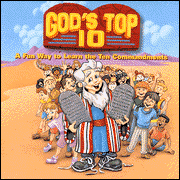 God's Top 10, Compact Disc [CD]
By Provident Music Distribution

Do your kids know the 10 Commandments? Do you? Well, now you can know them all with these easy-to-learn songs that teach the 10 Commandments. Your kids will have hours of sing-along fun as they explore the timeless truths contained in these priceless verses. Recommended for ages 5 to 8.